Shannon Fabrics Brand Ambassadors
Shannon Fabrics has an enthusiastic and talented team of Brand Ambassadors nationwide. These company ambassadors educate shop owners, store staff and consumers about how easy it is to sew with and create beautiful projects with its fabrics. Ambassadors are available to teach classes, provide in-store demos and trunk shows. They are also available to exhibit in shops' booths at local trade shows and more! Ambassadors are trained to provide inspiration, project ideas and to assist with the merchandising of Shannon Fabrics product in shops.
To view a map with the locations of the Shannon Fabrics Brand Ambassadors click here.
To learn more about how a Brand Ambassador can help grow your sales, please contact Teresa Coates by phone at
(323) 234-5252 or email at teresa@shannonfabrics.com.
---
24 Brand Ambassador(s) were found:
Alice Borge
Phoenix, Arizona
Alice Borge
Sewing since a small child, Alice had a crew of very uniquely dressed Barbies. She transitioned to clothing and later quilting. Her love of fabrics led to North Carolina State University where she earned a BS in Textile Technology and a BS in Textile Management. She and her husband owned a needlepoint and cross-stitch store for 7 years. She has since taught needlepoint and quilting classes for independent shops as well as TNNA. She is an avid quilter and has never met a fabric that she doesn't like.
---
April Woodside
Bradenton, Florida
April Woodside
Helping arrange pattern weights for her mom's sewing projects kicked off April's interest in sewing and in the years since she continues to develop her skills with a variety of projects. Bags, purses, quilts, crazy overalls and seemingly-impossible costume requests from her kids—she'll tackle any of them. She has taught children and adults and is eager to share her hard-earned knowledge and enviable skills with both.
---
Barbara Crom
Colorado Springs, Colorado
Barbara Crom
A 3rd generation quilter, Barbara began quilting as a teenager and learned to sew her own clothes before she hit junior high. Inquisitive and generous, teaching is a passion that falls right in line with her own love of learning new skills. Barbara loves trying new patterns and techniques in quilting. She especially enjoys teaching quilting to folks who are ready to learn something new. Fairly recently Barbara has experimented with in-the-hoop embroidered quilts.
---
Bobbie Norby
El Cajun, California
Bobbie Norby
Sometimes you get lucky and have a sewing teacher for your mother like Bobbie did. Learning at home, encouraged by Girl Scouts and Home Ec in high school, sewing was an ever-present part of her youth. As a young mother, she sewed for her family, then let it go by the wayside until picking up with quilting in 2010. It's been non-stop ever since with sewing and quilting for herself and, as always, for her family.
---
Colleen Bell
Killingworth, Connecticut
Colleen Bell
Like many sewists, Colleen began sewing when she was very young. For her, it all began with draping and pinning that Barbie doll. Life has its journeys and after a career as an executive, Colleen took the avenue of mothering nine children. With the youngest now in college, sewing is back in full bloom. With her mastery of skills in many textile fields, she has become a Shannon Fabric Brand Ambassador, a Martha Pullen Sewing and Heirloom Teacher, a member of the Fairfield World Design Team, and is published in Designs in Machine Embroidery. She teaches adult and youth sewing classes and camps in Connecticut. She loves machine embroidery and has an expertise in elegant machine embroidered bridal veils and accessories. When time allows, she blogs at
www.The-Embroiderist.com
.
---
Donna Thornton
Colleyville, Texas
Donna Thornton
Donna's enduring enthusiasm for sewing and making things by hand began in elementary school and has yet to find a finish line. Discovering new fabrics, patterns, and techniques keeps her interest piqued and she is always looking for new projects and fabrics to explore and incorporate into her sewing life. Donna enjoys teaching and inspiring others to think creatively when approaching their projects. She has experience with a wide variety of sewing machines, fabrics, patterns and techniques. She especially enjoys projects that utilize a combination of machine and hand work.
---
Emilee Masson
Spearfish, South Dakota
Emilee Masson
Emilee is a lifelong crafter and fabric lover. Quilting and sewing were the perfect fit and quickly became she artistic outlet of choice. Sharing new techniques and helping people be comfortable with different fabrics and construction methods are her passion as a teacher. Emilee is also a Shannon Fabrics Sales rep for North and South Dakota.
---
Gayle Camargo
Spokane, Washington
Gayle Camargo
Gayle is one of our Cuddle® Specialists and has been with us for almost 10 years. Gayle has been sewing for 40 years and is extremely creative and talented. One of her best skills is creating without a pattern. Also, she is incredibly talented at sewing 3D and stuffed animals. Gayle teaches at The Quilting Bee in Spokane, WA and is a Bernina Ambassador.
---
Jackie Hillman
Greenfield, Wisconsin
Jackie Hillman
Her experience in sewing and home décor gives Jackie an advantage when sewing with many of our fabrics. Willing to step outside the box, she can pattern-hack to perfection, creating new looks in apparel and bags. She regularly sews and embroiders on her Brother sewing/embroidery machine and is equally comfortable with sergers. Jackie's drive to make sure customers and students are happy, satisfied and inspired and is eager to bring that to Shannon Fabrics educational workshops and demos.
---
Jayme Christenson
Rexburg, Idaho
Jayme Christenson
Jayme started quilting in 2010 while pregnant with her second child, needing something to do to keep her occupied. She has a deep love of art, color, patterns, and textures, and brings her eye for beauty to all her work. Jayme has been working with Shannon Fabrics in 2015 and is the Shannon Fabrics lifestyle photographer.
---
Judy Gauthier
Ripon, Wisconsin
Judy Gauthier
Sewing since just 8 years old, Judy owns Bungalow Quilting and Yarn, a modern quilt shop in Ripon. She has written two books with C&T Publishing and has a new book filled with Cuddle® projects due for release in Spring 2018. Judy loves combining substrates, including Cuddle®, Embrace double gauze and Cuddle® Luxe and Luxe Cuddle®, for fun and interesting projects meant for sewing enthusiasts of all skill levels.
---
Karen Fuchs
Kansas City, Missouri
Karen Fuchs
Karen originally hails from the Sunflower State and now calls Kansas City her home. Her childhood babysitter first taught her to sew at age seven and she began making her own clothes which continued throughout college and into adulthood where she ventured into quilting and machine embroidery. As a retired educator of 30 years, Karen spends her time continuously seeking new sewing techniques and skills, teaching sewing classes, and spending time with her granddaughters.
---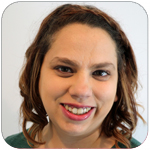 Krista Bleer
Elmore City, Oklahoma
Krista Bleer
Krista's love for sewing started very young and was taught to her by three special people in her life. She remembers sitting on her grandmother's floor watching her sew and playing with the fabric strings as they rolled off her serger. At 13 her Great Grandmother introduced her to a love for quilting. She taught her the importance of details and perfectly matching and pressing every square. Lastly, her mom also played a big part of her becoming the sewist she is today. She taught that no matter what Krista imagined, if she could dream it, she could make it. She took everything these women had taught her and started her own business making handmade items for babies and kids. After having so many of customers come to her and say "my Grandmother use to sew and I wish I would have learned" she started teaching small sewing classes. She loves to teach and watch as her student's projects come together.
---
Linda Lingner
Bohemia, New York
Linda Lingner
Linda has over 30 years retail sewing experience, and currently manages a quilt shop. Linda's goal is for each student to be successful, and she draws on her years of teaching experience to make sure there are no mistakes, only creative opportunities in class. Linda began sewing clothing in high school, and found her way to quilting soon after. Now an avid machine embroiderer, Linda loves using Cuddle® and Cuddle® Suede in machine appliqué for its wonderful texture, softness and ease of use.
---
Mary Stevens
Graham, Washington
Mary Stevens
Mary has been involved in the crafting world since the age of 12, but didn't begin sewing until her late 30's when a lifelong fascination with quilting was fostered by a very talented and patient neighbor. With a basket of scrap strips and a log cabin pattern, her first quilt was created. Mary's addiction for fabric and patterns began! Her love of Cuddle® started with a baby quilt and a daughter that wanted "wubbie" for backing. From there, the discovery of a local pattern designer of receiving blankets with appliqués and matching stuffed animals all created with Cuddle® sealed her fate.
---
Naomi Stewart
Bozeman, Montana
Naomi Stewart
Naomi Stewart is an avid quilter from Bozeman, Montana. She started sewing in 4-H at age 9 and never stopped, constantly trying new techniques. She enjoys both quick and lengthy projects, from easy infinity scarves to stuffed animals to full-size quilts. Naomi's favorite projects are scarves, stuffed animals and quilts.
---
Pamela O'Neill
Point Venture, Texas
Pamela O'Neill
As a child Pamela always had an extraordinary interest and talent for mixing colors, patterns and designs. As she became a homemaker and mother this talent grew into a passion as she used this gift to decorate her home and create quilted products to give as gifts to family, friends and acquaintances. Over the years as her family continued to grow she turned her love of quilting into a small business, participating in trade shows and providing independent sales and gifts.
---
Pat Burke
Joliet, Illinois
Pat Burke
Pat's passion for sewing and quilting has grown since 1990 alongside her fabric stash. Never having found someone who doesn't love a Cuddle® quilt, she keeps making more, combing cotton patchwork and Cuddle® backings for quilts that never fail to satisfy. A lifelong teacher, Pat continues spreading her love and knowledge of sewing through her volunteer work in the west Chicago area. Pat is an active member of her local quilt guild. She volunteers on the board, schedules speakers, and teach demonstrations at quilt shows.
---
Pat Wodskow
Rexburg, Idaho
Pat Wodskow
Pat is one of our Cuddle® Specialists. Pat has been sewing since age 10 when she made her first dress in 4H. Pat worked as the Buyer in the Fabric Department at Porter's in Rexburg, ID for 23 years and that's how she learned about Cuddle®. Pat introduced us to the Cuddle® strip quilt idea. She has her own online quilt shop, www.cuddlesoftkits.com, and offers helpful Cuddle® tutorials and videos on her site. Pat has 7 children and 32 grandchildren and had her first great grandchild recently.
---
Rachel Ring
Old Tappan, New Jersey
Rachel Ring
A native East Coaster, Rachel is a lifelong crafter who fared miserably in middle school home ec, and was convinced for years that sewing was not for her. But her parents bought a sewing machine for her on her 31st birthday and the rest was history! Sewing has become a part of Rachel's daily life and she's hoping to inspire others to use Cuddle® and Embrace fabrics for their garment sewing projects, too! Some of her favorite projects use fabrics in unexpected ways.
---
Steffani Burton
Brainerd, Minnesota
Steffani Burton
Steffani is the third generation of "women who sew" at Country Fabrics and Quilting in Brainerd, MN. After earning a degree in design from Arizona State University, Steffani returned to her roots to take an active role with the long-arm quilting aspect of the business. Balancing her insatiable adventurous spirit, she lives on a quiet lake with her partner and young daughters.
---
Susan Hastings
North Salt Lake, Utah
Susan Hastings
Making her home in North Salt Lake, Susan has been sewing for more than 40 years. Taught the ways of the needle by her mother, she's gone on to work extensively in quiltmaking and long-arm quilting. She owns Kwytch Quilts and makes custom Cuddle® quilts for lucky recipients across the country, using her eye for color and exquisite quilting skills.
---
Teresa Coates
Los Angeles, California
Teresa Coates
Spending innumerable hours devouring vintage sewing books, Teresa developed a deep love of sewing and quilting. She began with apparel-sewing as a young teen and began quiltmaking as a new mother. In the 25 years since, she's made more than 200 quilts for both clients and fabric/pattern designers. In addition to custom sewing gigs and designing patterns, she is also the Event & Education Coordinator for Shannon Fabrics.
---
Veronica Lovvorn
Nashville, Tennessee
Veronica Lovvorn
Veronica grew up helping her mother and grandmother cut fabric, sew garments, and combine multiple patterns to create unique looks. After a career in civil engineering, Veronica retired her briefcase and resurrected her mom's vintage Bernina sewing machine in order to sew outfits for her young daughter. She soon discovered a passion for all things sewing and started the blog, sewVery, to share her finished sewing projects, free tutorials, pattern reviews, and new pattern designs. She has been a contributing writer for several major sewing blogs and has had projects published in Fresh Quilts Magazine and the book On the Go Bags. Check out her blog at
www.sewVery.blogspot.com
.
---